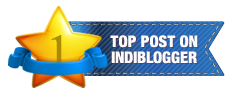 Chained Can You Escape Fate? is a composite of two extremities of human - life and death - life comes in the form of love, where we find 3 love stories in this debut entry by Mehek Bassi. Death comes in the form of 4 murders. The story is about Shiya and Arjun, and Shiya's family members. Shiya belongs to a rich family with her father being a successful and always busy businessman. Her mother is equally busy in her parties and social meetings.
Shiya desires to become an establishes singer when she begins her college life but finds herself very lonely in her family. She gets attracted to Arjun and starts loving him. The book has a lot of questions arising from time to time as you go through it and gradually there would be astonishing answers to those questions.
Overall an interesting read.